Profile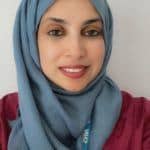 Aaliya Goyal
Aaliya Goyal is a member of:
About Me:

I am a GP with lots of different jobs. I live in Birmingham. I like travelling abroad and in the UK and trying different foods.

Read more

I am always learning. Although I wasn't very good at art when I was at school, my children love art and have helped me appreciate it more. I like meeting new people, often not medics (!) so that I can learn more about the world, hear exciting and different ideas and build my network. I have done lots of random things in the past year or so, including appearing on a poster and in a promotional video for a book.

My Work:

I am a GP. I work as a clinical lead for a clinical commissioning group which means I work with a group of people who decide what people need to make their health as good as possible. I give advice to students trying to get into Medicine and help out at a medical school. I am a Training Programme Director helping doctors who are training to be GPs. I do a lot of voluntary and charity work.  I also write articles, host events and speak at a lot of events for other doctors and the general public.

Read more

I am a GP with lots of different jobs working with different communities. I work for a Clinical Commissioning group where I contribute to ideas to improve care for lots of people living in an area. I support doctors to become GPs as a Training Programme Director. I share information about my work in conferences, webinars, podcasts, television and radio. I often host events but a lot of them have been online over the past two years.

I write articles which have appeared in newspapers and medical journals.

I support a school to get sixth formers get into medicine. I have helped out at careers evenings, run practice medical interviews and given advice on applications.

Sometimes I help out in a local medical school.

I have volunteered for several medical organisations including a medical charity providing care for refugees and migrants and helping them understand the NHS in this country as it can be a bit confusing when you're not used to it and need help.

I am on the Midland RCGP Faculty Board as an Equality, Diversity and Inclusion representative.

I work in lots of different organisations, and I like to connect organisations together to work in new ways.

My Typical Day:

I don't have a typical day as every day is different! I wake up and have breakfast and start the working day.

I have different jobs on different days of the week so it could be seeing patients, meetings or planning for lessons and events. At home we usually cook together and talk about our day.

Read more

Some days I prepare lessons and support doctors training to be GPs.

If I am working in a practice, I usually spend my time seeing patients, writing medications and helping doctors in training.

Some day I am involved in vaccination clinics or refugee health clinics.

Some days it's online meetings from 9am to 5pm. It can be hard looking as a screen all day but the meetings are with different people sharing lots of ideas so the time goes quickly!

I am often involved in organising fun events for other doctors and colleagues. In the past I have organised cooking events, an origami (paper folding) event and events on skincare. I have also been involved in organising education events and I am working on a few events at the moment for different organisations that I work with!
Quick Fire Questions

How would you describe yourself in 3 words?

Passionate, Innovative, Talkative
---
---
---