Profile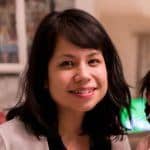 Jess Li
Curriculum Vitae
Education:

University of Sheffield, University of Nottingham

Collyer's 6th Form, Millais school in Horsham, W Sussex

Qualifications:

Medicine degree, diploma sexual health, pharmacy degree

Work History:

Currently at a GP practice in Bilborough, Nottingham

Prior to that 5 years training in a GP practice in Nottingham city centre and placements in the hospitals in Nottingham

Current Job:

GP fellow (which means I'm a GP doing a project also)

Workplace:
Jess Li is a member of:
About Me:

I'm a mum to 2 little cheeky rascals! I am a newly qualified GP. I love spending time with my kids, the great outdoors and have recently taken up swimming and cycling, which I've not done in years.

My Typical Day:

Usually a mad morning rush to get me and kids ready for school and work on time! I get to work for 845 and it's busy seeing patients all day through to 530 when I have to leave to fetch the kids from after school club.

Read more

On my working days, I have to get the kids ready for school and me ready for work. I get to work for 845 and it's pretty much non stop of seeing patients, looking at results and letters and sorting tasks from other healthcare professionals. I like to squeeze in a quick coffee break so I can chat with my colleagues otherwise the day can feel quite lonely! Some days I have to leave bang on 530 so that I can get the kids from after school club. And once home, again a mad rush! Of sorting dinner, homework, reading, bath time. Once they are in bed by 9 ish, then I can finally relax a bit and talk to my husband! But sadly a lot of the time is also spent doing boring stuff such as pay bills, reply emails and even logging into the work system to catch up.
Quick Fire Questions

How would you describe yourself in 3 words?

Smiley, caring doctor

Who is your favourite singer or band?

Too embarrassing! Anything that's on the radio I will bop along to! The usual Ed Sheeran, Adele and also stuff from the 80s and 90s, which you are all too young to know!

What's your favourite food?

Food is my great pleasure! Anything!

Fish and chips, Dim Sum, Thai, Italian…

What is the most fun thing you've done?

Recently did Go Ape and bouldering for the first time!

The trampoline parks are also ace!

What did you want to be after you left school?

Were you ever in trouble at school?

Once I think for taking too many chocolate bars into school!

What's the best thing you've done in your career?

Pushing myself and testing my limits.  I decided to switch from a career in pharmacy to medicine. Very scary time and I wasn't confident but it turned out to be the best decision. So glad I went for it!

What or who inspired you to do your job?

Professor Winston – from Child of Our Time documentary

If you weren't in healthcare, what job would you do?

Food tester!

Hotel tester!

Luxury holidays tester!

You get the jist!

If you had 3 wishes for yourself what would they be? - be honest!

My kids grow up happy and healthy.

All the people dearest to me stay happy and healthy.

That I continue to enjoy and love the work I do. Oh and good health and happiness for me too (is that too greedy?!)

Tell us a joke.

Why are footballers messy eaters?

Because they dribble!

(From my football mad little boy!)

My profile link:
https://primaryem22.imamedic.uk/profile/jessicali/
---
---
---