Profile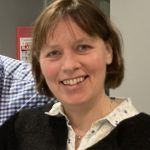 Kate Knowles
Curriculum Vitae
Education:

Primary School, Secondary School in Scunthorpe.

A levels at a 6th Form College (messed up and had to resit!)

Qualifications:

Registered General Nurse training in Nottingham

A BSC degree with the Open University which I finished in 2002

Another BSc at Derby and then a Masters at Nottingham to become an Advanced Clinical Practitioner.

Work History:

Staff nurse (normal nurse working on the wards) for 10 years

Then I worked in research with clinical trials (a bit like the covid trials that you may have heard of), then an educator where I trained other nurses, then a ward manager where I was in charge of a ward of nurses.

I became an Advanced Clinical Practitioner in 2013 because my favourite type of work was working with patients on wards.

Current Job:

Now I look after teams of Advanced Clinical Practitioners in the two Nottingham Hospitals (City and Queens), I train people and I do a lot of work trying to support Advanced Clinical Practitioners who work elsewhere within the county.

Workplace:

Nottinghamshire Alliance Training Hub

(and Nottingham University Hospitals)
Kate Knowles is a member of:
About Me:

I live with my family in Nottingham. My husband and I both work in the National Health Service (NHS) at the City Hospital and Queens Medical Centre. My 3 children are now grown up; one successfully completed a History degree and works in Nottingham, one is doing her nurse training at Derby University and then the third is studying Biomedicine at Portsmouth.

I love being outdoors, I'm trying to get better with my photography, I love books and I've just decided that I'm too old to continue playing hockey anymore!

My pronouns are

She/her

My Typical Day:

I usually work 9-5pm Monday to Friday and now spend a lot of time in the office writing documents, sending and receiving emails and having virtual meetings. 1 day a month I teach university students and occasionally I will work on a medical ward.
Quick Fire Questions

How would you describe yourself in 3 words?

Outdoor loving healthworker

Who is your favourite singer or band?

I don't have a favourite band or singer but I love music

My favourites playlist on Spotify includes Cage the Elephant, Stereophonics, Electric Light Orchestra, Pulp, Noel Gallagher's High Flying Birds, Catfish and the Bottlemen, Arctic Monkeys, Gorillaz, Oasis, James, The Cure, Twenty One Pilots. Hey enough said …… I can go on and on!!

What's your favourite food?

Cake! A good victoria sponge cake with fresh cream and strawberry jam filling

What is the most fun thing you've done?

Travelled around South America for 8 weeks with my friend.

What did you want to be after you left school?

A nurse or a volcanologist

Were you ever in trouble at school?

At Primary School yes but then I started behaving better

What's the best thing you've done in your career?

Made people feel better and helped them understand their illness and how they can help themselves get better. This is always the best bit – helping people.

I was very fortunate to get the opportunity to go to the USA for 8 weeks to see if I could learn from their nurses, practitioners and doctors.

What or who inspired you to do your job?

To start with my Mum and a neighbour who both thought that I could be a lovely nurse. Then once I qualified as a nurse there were many amazing colleagues who were my role models.

If you weren't in healthcare, what job would you do?

I am now fascinated by photography and so, with my love of the outdoors, I would like to be a landscape photographer.

If you had 3 wishes for yourself what would they be? - be honest!

To be a great landscape photographer.

To be very fit and healthy so that I could do fell running.

Live in a cottage in the country with a good regular bus route to Nottingham centre.

Tell us a joke.

Really? No you don't want to hear mine!

My profile link:
https://primaryem22.imamedic.uk/profile/kateknowles/
---
---
---